Smart Home
This is a summary overview of the Smart Home
Part Three of the Home Energy Puzzle
Potential to Integrate PV
Potential to Integrate EV
Manages All Power Sources and Loads
Smart Home – Good Grid Citizen
Common Myths and Misconceptions
Current Smart Home Offerings
Current Smart Home Economics
Part Three of the Home Energy Puzzle
You may be wondering as to the significance of our tagline "…connecting the dots". Throughout this website we will continually expand upon this notion of bringing together Solar PV, Electric Vehicles (EV) and Smart Home technologies. We believe that this triad of technologies not only add to each other's value but that they cannot achieve widespread adoption on their own.
Part one of the home energy puzzle was Solar PV… the harvesting of clean abundant Solar power to generate electricity (Find out more).
Part two is the Electric Vehicle or EV, opening up an opportunity for clean, quiet transportation, free from the need for oil.
Part three is the Smart Home, which in our opinion will be the key to optimizing all these new power technologies. As Solar starts to gain widespread acceptance, it can hammer the grid. The same for EV's. It's only when these significant power components are orchestrated properly, do they shift from a grid liability to a grid asset.
Potential to Integrate PV
Discussion of impact of integrating PV
Potential to Integrate EV
Discussion of impact of integrating an EV
Manages All Power Sources and Loads
Discussion of orchestration (balancing) all sources and loads
Smart Home – Good Grid Citizen
Discussion of the Smart Home being an intelligent microgrid "node" on the overall utility grid
Common Myths and Misconceptions
Myth #1 – Solar Adoption has a Hard Limit of 15% to Avoid Grid Instability
Myth #2 – Solar Net Metering is unfair to those that have not yet converted to Solar
Myth #3 – The Grid Cannot Handle Widespread Adoption of Electric Vehicles
Myth #4 – The Grid Cannot Handle Widespread Adoption of Electric Vehicles
Current Smart Home Components
Although this Smart Home graphic is a complete configuration, we will highlight only those components pertinent to our discussion… Smart Home components including Nest, Geli, CES smart panel, LiIon batteries, etc.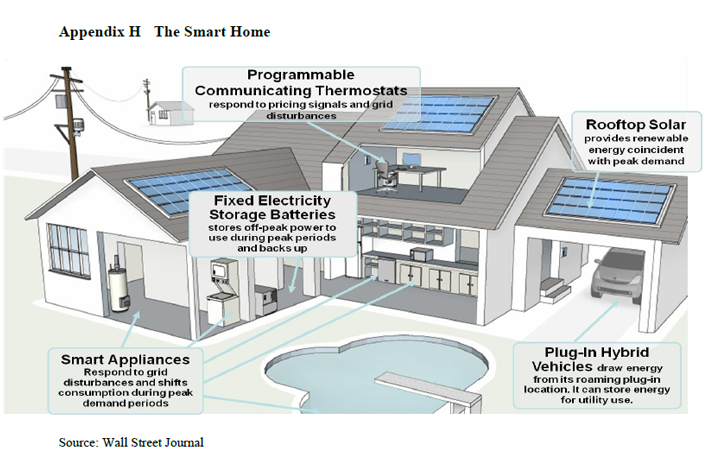 Current Smart Home Economics
Discussion of the Smart Home economics including local storage and ability to participate in grid services. Not much incentive other than local storage and energy star deductions. Need detail of grid support economics.